Cedarwood  underwent major renovations from 2001 to 2007 redeveloping from a run down hotel motel into individually owned self contained and studio apartments that have been very popular to date! Our comfortable and roomy apartments provide room to move and all that you need to make your visit to Falls Creek at any time of the year one to remember.
Since 2007 even more upgrades have been carried out to various apartments within Cedarwood.
All apartments at Cedarwood have their own private balconies with gas BBQ's on them and gas is provided free.
Check in time is between 4pm & 6pm – to check in outside of these times prior arrangements must be made with management on the day of your arrival. As the office is not always attended arriving unannounced will lead to a potential long waiting time for staff to return.
Check out time is by 10am
There are 2 types of accommodation to choose from at Cedarwood and these are;
Self Contained Apartments; If you would like to do your own catering or intend on spending more time at home then the full kitchen and larger living areas make the self contained apartments the ones for you. Most kitchens have dishwashers and all self contained apartments have laundry facilities. All have TV and DVD player.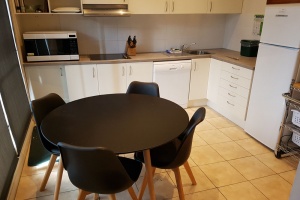 Studio Apartments;  If you don't need a full kitchen and lounging space then why pay for it?  Studios have a small kitchenette that consist of a small sink, fridge (most are bar size), microwave, toaster and kettle and have basic crockery cutlery and glassware. there are no cooking facilities as there is not the kitchen ventilation required for cooking. The all in one bedroom/living areas are cozy and of course they all have their own bathrooms. All have TV and DVD player.